It was one huge decider to look back from last night at the Sydney Cricket Ground when Australia went head-to-head against England for the series trophy, as they came into the field at 1-1 apiece after England bounced back last Saturday in Brisbane. The away team struck the first blow before they responded to Tom Wright's TRY from Australia with a one-point lead at half-time, courtesy of Freddie Steward. Although, Australia kept themselves in the hunt within England's radar thanks to Folau Faingaa off the bench. But at the end of the day, it has to be England when Marcus Smith capitalised a small lead with a wonderful intercept TRY before they tightened their defense that frustrated Australia in the end. The final score on what has been the final ever rugby union match at the SCG – 17-21 – as we look forward to move back to the all-new Allianz Stadium soon next door.
It's not been the series ending the Wallabies wanted last night during the 3rd and final Test decider v England. Their first-half run wasn't bad when they took note of the opposition's ill-discipline thanks to Nick Frost on second row, before they got the ball rolling via his Brumbies team-mate Tom Wright. A few changes off the bench during the second 40, especially when Folau Faingaa kept the Wallabies hopes alive towards stealing the series away from the English. Sadly, they just couldn't get escape the opposition's robust defense under pressure while suffering lapses of inconsistency going forward – which led to lost penalties/turnovers. It's that one huge weakness they need to work ahead of the Rugby Championship beginning with Argentina in a few weeks, even though they have to keep moving without a few key players from the treatment room.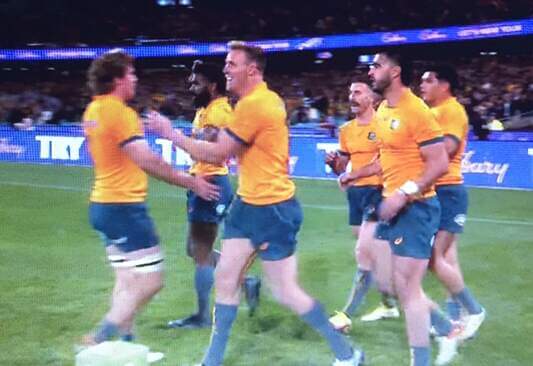 Meanwhile, England retain the series yet again when they have now taken home the Ella-Mobbs Cup, which is the new trophy after the Cook Cup was retired at the end of last year that spanned for 25 years since its series inception back in 1997. They were glad to get away from their own ill-discipline at the beginning & touched down Australia's inconsistent attack where England showed excellent fightback in the first half. Not only they opened the scoreboard via the three-point penalty goal, but Freddie Steward's TRY in the 40th minute puts them ahead of Australia by just one point at half-time, 10-11. They later capitalised on their narrow lead with another three-pointer followed by amazing finish from fly-half Marcus Smith, before England put their bodies on the line defensively that stopped Australia from slipping past them in their tracks going into full-time.
As said earlier, the Wallabies are now preparing for the Rugby Championship going into August. These two games in Argentina will be a Stan Sport exclusive since they kick off at 5am AEST our time which is 4pm over there, so it won't be aired for free as Nine/9Gem tends to broadcast Super Rugby and Wallabies games within here and New Zealand. I don't know about the away Springboks games at around midnight when Australia last played in South Africa since 2019, but I guess we'll find out soon enough next year. For now, there's some Club Rugby to watch before Nine/9Gem airs the Wallabies games again when the Springboks come here at the end of next month.