It was great to be on the ground at North Sydney Oval earlier this afternoon to watch the regular season Shute Shield finale between Northern Suburbs v Eastern Suburbs.
Both sides played very well for the whole time that went down the wire, especially when Easts went from nine points down earlier at 26-15 in the 2nd half to first time leaders 26-29 with a only 15 minutes to go. But they just couldn't overcome the minor premiers of 2022 in Norths, who not fired off in the first half but also built a good lead later on, before they responded to the Easts' 2nd half resurgence with a Max Burey drop goal that marked the winning move towards full-time.
The final score was Norths 32-29 Easts as we look forward to the four-week Finals Series beginning with the Qualifying Final in Round 1 next Saturday.
Commiserations to Easts with the narrow loss there. They have came from a long way when Easts made up some lost time that helped them close into Norths by a four-point gap (19-15) at the break. Now they may not have got the ball rolling straight away when Easts also suffered another setback after Norths extended their lead; However, a few changes of the bench benefitted another two tries in the 2nd half where they finally got ahead for the first time. They just couldn't hold them off with a very small lead under pressure unfortunately, when the slow starts and incomplete attacking conversions eventually came back to haunt Easts.
Meanwhile, congratulations to Norths with the 2022 minor premiership title. It's good to see them build some early momentum through both halves before there was a few ill-discipline errors where Easts fought back with a few tries/three-point goals of their own. However, they never gave up when Norths won plenty of ball opportunities thanks to them shutting down the Easts attack defensively. They had plenty of time to prevent Easts from slipping past them in their tracks. And to level the scoreboard at 29-29 with six minutes to go before they regained the lead with two minutes to spare via the drop goal & hold Easts off towards full-time is just incredible rugby to watch from a top notch Shute Shield side like Norths.
The Qualifying Finals are all set for next Saturday; Norths v Manly, Sydney University v Randwick, Eastwood v Eastern Suburbs & Warringah v Gordon.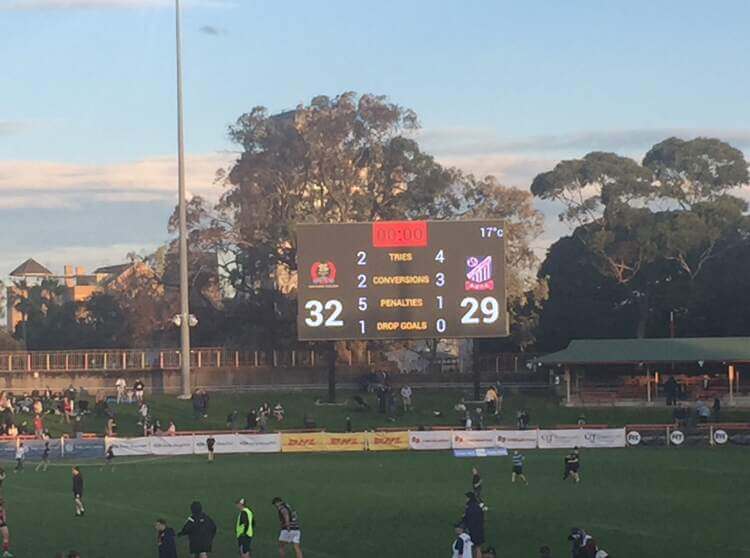 For now, I had a wonderful Saturday arvo at a legendary sports ground that is both suitable for rugby union and cricket in North Sydney. I even saw a Greg Chappell Cricket Centre shop when I walked just outside the venue. I hope to visit there again next time as we turn our attention now to Game 1 of the Rugby Championship tomorrow morning at 5 am AEST when the Wallabies take on Los Pumas in Argentina.